Save
2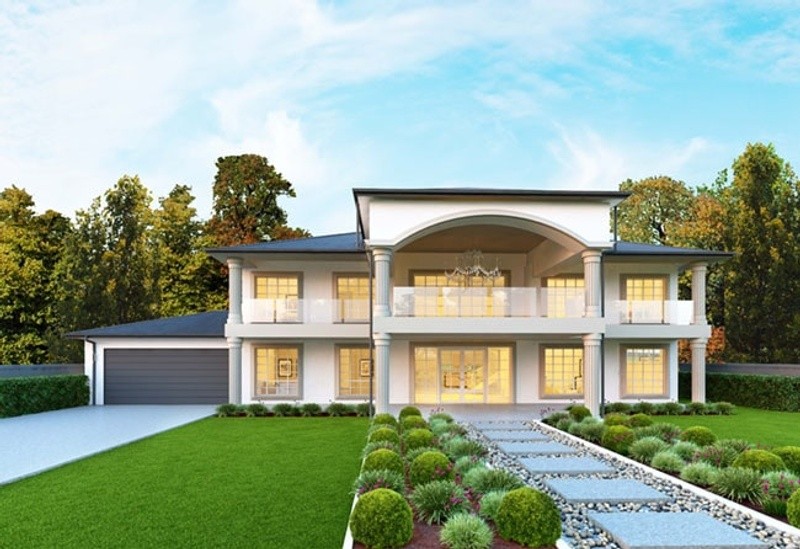 Magnolia
$POA Get price
lot width -
90.9 squares
Download brochure
Double storey
Neo Classical New House Design.
Variations
| Name | Living | Alfresco | Theatre | Study | Butlers | Lot Width | Squares | Price |
| --- | --- | --- | --- | --- | --- | --- | --- | --- |
| Magnolia | 4 | - | - | - | - | - | 90.9 | $POA |
Magnolia
Living:

4

Alfresco:

-

Theatre:

-

Study:

-

Butlers:

-

Min Lot Width:

-

Squares:

90.9

Price:

$POA
Established 1990
50 homes per year
Build Locations: SE Queensland - Brisbane, Sunshine Coast, Gold Coast
Type of build: Luxury Custom Homes, New land estates, Vacant land, Acreage Designs, Knockdown Rebuild

About Alphaline Homes
We're here to make your new home build journey a memorable one for all the right reasons
If you want the best service that money can buy when designing, planning, and constructing your new custom home, then you simply can't look past the friendly team at Alphaline Homes.
Completely customisable designs
Unlike the "big guys", we offer fully flexible design services and our home designs is that they are fully customisable. You can customise them as much or as little as you like.
All-inclusive homes
All of our home designs are completely turn-key. Our standard inclusions go well beyond the ambiguous offerings of other builders, from the mail box to the driveway to the flyscreens and everything in between.
Family operated business
We've been a family owned and operated business since 1990, so our reputation is very important to us. You'll always deal directly with the owners who will give you the time, respect and attention you deserve. All of our team members are highly experienced in dealing with local council and strive to make the build process as smooth as possible for you.
3 key reasons to build with Alphaline Homes
1 – Start Build Guarantee
We guarantee to start construction within 30 days of written notice of unconditional finance approval
2 – Fixed Price Guarantee
Unlike other custom home builders, our contract price is final. We always conduct professional soil tests and site level analysis before giving you the final contract price. This means there will be no unexpected costs for footings because of the ground conditions.
3 – Family Values
We're a family business, so we understand the values of respect and transparent communication. When you build with us, you'll have a dedicated build liaison to answer any questions you have along the way.
Life Size Plan Walkthroughs Visualise your floor plans coming to life with our revolutionary digital projection service
As many homebuyers will know from experience – failing to plan is planning to fail. There are so many decisions to make when designing and building a custom home, it's natural to want to get everything just right. But it can become tricky and expensive if you realise you want to make changes to your plans once construction has already started.
To help minimise delays and costly variations, we offer all Alphaline Homes customers the opportunity to walk through a 360°, life sized digital projection of their floor plans before any construction work commences.
How does it all work?
Utilising the latest technology, your floor plans are projected onto the floor of a custom-built, 665m2 studio in North Brisbane in their exact dimensions. This service allows you to truly visualise your dream home becoming a reality.
You can walk around the projection to really get a feel for the layout and evaluate every single detail. If you're not completely happy with something, changes to the layout can be made on the spot and displayed instantly on the projection.
Want to see how things look if you were to swap around the positions of the master and guest bedrooms? No problem. How about removing the wall between the living and dining areas? Easy!
Deciding on such changes during the design phase will save you time and money on variations needing to be made during the construction phase.
These digital floor plan walkthroughs are included at no extra cost with every new home we build.
Colour and Design Studio Designing every detail of your dream home has never been so easy
Deciding on each design detail when you're building a house can be an extremely time consuming process. You can spend hours and hours across multiple weekends going from tile shop to paint shop to bathroom shop to appliance shop and then still not find what you're looking for.
At Alphaline Homes, we want to make the building experience as easy as we can for you.So when you design a house with us, you'll have full access to our Colour and Design studio which features a wide range of samples. We basically have everything you need to finalise the design of a house – all in the one convenient place.
Meet with a qualified interior designer
When you choose to build with Alphaline Homes, we'll set up an appointment with one of our qualified interior designers at our Colour and Design studio in North Lakes.
During this appointment, our interior designer will walk you through our studio so you can browse our range of samples. This will give you an idea of what type of design styles and elements you'd like to see in your new home.
Our interior designer will then work through your floor plans room-by-room with you and help you pick out fixtures, fitting, appliances and colours. They are highly experienced in how to make rooms really work together beautifully and will make suggestions as to what goes well with what.
Additionally, they will make sure you get the absolute most out of your space and your budget so you can make those final design decisions with complete confidence.
This appointment usually takes around 4 hours. If you've got kids – don't worry, we have you covered with our kids play room so you can stay focused on finalising your design plans. And while the kids are kept entertained, there's always coffee or tea for the grown ups to enjoy.
See all your options for yourself, all in the one place
One of the greatest benefits of our Colour and Design studio is the ability to touch and see the samples we have on offer. Nothing beats seeing how certain elements work with other elements in real life.
If you want to know how a gold tap looks against a cream tile, our interior designer can physically show you. You can mix and match all our samples to your hearts desire.
If you were to go to individual shops for each of your design needs, such as a tile shop, your view of possibilities will be restricted. You can't see timber flooring or vinyl planking as an option at a tile shop because they will only stock tiles.
At a Colour and Design studio, we have all available options for you to consider in the one place.
Direct Enquiry
Contact Alphaline Homes
North Lakes QLD
Office Address: 2/10 Torres Cresent North Lakes QLD 4509