FACADES GALLERY FLOORPLAN
Save
8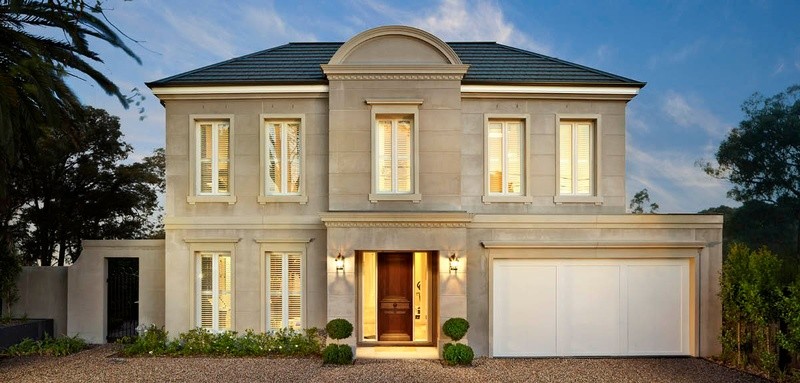 Double storey
New French Provincia New House Design.
Variations
| Name | Living | Alfresco | Theatre | Study | Butlers | Lot Width | Squares | Price |
| --- | --- | --- | --- | --- | --- | --- | --- | --- |
| The Avignon 46 | 3 | - | - | 1 | 1 | - | 46 | $POA |
The Avignon 46
Living:

3

Alfresco:

-

Theatre:

-

Study:

1

Butlers:

1

Min Lot Width:

-

Squares:

46

Price:

$POA

The Avignon. An entertainers delight with unrivalled attention to detail.
Quality without concession and craftsmanship without compromise combine in Glenvill's Avignon – a home of rare grandeur. With its expansive proportions, modern entertainers floor plan and unrivalled attention to detail, the Avignon delivers a singular level of luxury.
From the splendor of its wide, sweeping staircase through to the exquisite finishes and bespoke detailing, nothing has been forgotten in the pursuit of opulent elegance. The aged render exterior delivers a lived-in established look that won't date and wonderfully considered proportions allows the Avignon to fit into any streetscape.
Attention to detail can be seen at every turn while retaining a practical and highly functional layout. Detailing of the highest standard includes a unique, solid timber carved entrance door, plus laser-cut wood insets on vanities and other interior features. The general living and formal areas have their own distinct space, while the dining zone has the flexibility to be as formal or casual as you like.

About Glenvill Custom Homes
Designing the Never Ordinary
To design and construct the spaces that our clients will live in for decades to come is a great honour for us. Our team of in-house designers, draftsmen and construction consultants work collaboratively to ensure every Glenvill home is expressive, enjoyable and effortlessly functional.
Glenvill's design ethics are that good design is about the user, and this is never truer than when it comes to designing homes. "It's about emotion", says CEO and Creative Director, Len Warson. What will the user feel when they walk into a Glenvill home? We want it to feel special, for there to be a sense of arrival. We want it to be something that they feel proud of. We want it to enhance a sense of family and a sense of place.
At Glenvill, great design goes well beyond fixtures and fittings. We see a house as akin to a sculptural form a series of cubes and spaces where drama can be created and the eye can be captivated. While there's no single defining Glenvill aesthetic, our homes are typified by sophisticated neutral palettes, knowing attention to detail, strong use of light and appealing internal forms.
A Reputation Built on Quality
In a process as complex as designing and constructing a new home, outstanding outcomes are no accident. It takes knowledge and expertise, care, passion and pride. It takes dedication to quality across all levels, from CEO and construction manager down to builder and contractors. A collective desire to never be ordinary.
This desire is the foundation of everything we do at Glenvill.
The inherent sense of quality one feels when walking into a Glenvill home is the product of scores of minor details being considered, working in harmony. It is not just about how it looks at first glance, but how it performs today, and for years to come. It can be felt in the thud of a solid timber door, the touch of a fine carpet underfoot, or the way a cupboard opens when the joinery is just right.
Longevity is the true mark of quality however, and that's where the virtues of a Glenvill home take a little longer to reveal themselves. As a company that believes in doing things properly, we engage with suppliers and contractors who see, share and support this value. For us, it's as much the materials and specifications behind the walls that makes our homes what they are.
This company culture is supported by processes that ensure quality outcomes at every stage. Rigorous stage checks conducted by site managers, detailed satisfaction surveys with customers and regular feedback sessions with suppliers all provide measureable quality control information that allows us to continually appraise our performance and refine our practice.
Our unwavering commitment to quality has seen Glenvill win over 100 Awards for excellence in design and construction and become an award winning builder. More importantly for our clients, the best outcome of a Glenvill home's quality of build and level of finish is a happy, trouble-free home for decades to come, coupled with exceptional resale value.
A process where everything is contemplated to make every element of the experience unforgettable.
The design-and-build process is a journey, one filled with possibility and potential. Our aim is to impress, inspire and excite from the onset.
Our skill in the early planning and design phase is in helping the customer articulate their vision, while fully understanding the process that lies ahead of them. Each detail is discussed to ensure maximum transparency and integrity in the finished project.
Whether it's a Glenvill signature home, or our new Bespoke series, the first step is always a consultation with the perspective client to find out their hopes, goals and budget. This is followed by a site visit, to review ideas and gain further insights into each client's needs. From here, we consider how the home will be used: thinking about how each family member will live in it today, and how the home can mature and grow with them in the years to come.
Custom Home Builds
With Bespoke, we start with a blank canvas and work intimately with each client to create residences tailored to the inspiration and needs of the most discerning, design-conscious customer.
?
Direct Enquiry
Contact Glenvill Custom Homes
Cremorne VIC
Office Address: 480 Church Street Cremorne VIC 3121